GALWAY FLUTE FESTIVAL 2019 IS FULL TO CAPACITY
Due to the huge enthusiasm for our 30th Anniversary Galway Flute Festival, we are completely full to capacity. All enrollment is now closed for visitors and participants. However, you can join us online July 19-28 as we will be live-streaming certain festival events on our Galway Flute Academy Facebook page.
Have you performed for sir james before?
In preparation for our 30th Anniversary Galway Flute Festival in 2019, we would like to compile of list of the hundreds of flutists who have been a part of Sir James' teaching career since the beginning!
If you have attended the Galway Flute Festival, Masterclass or Residency, please let us know!
Fill out the short form and we will keep you informed of plans for the 30th Anniversary Galway Flute Festival. It would mean so much to have as many of you there with us as possible!
Each day at the Galway Flute Festival begins and ends with ALL students together! Every day begins with warm-ups led by Sir James, focusing on tone production and technique. The day continues with masterclasses given by Sir James and Lady Galway, along with Guest Artists' workshops on solo repertoire, technique, orchestral excerpts, chamber music, jazz improvisation, piccolo, low flutes, contemporary techniques and more. Evenings are filled with concerts by the world's leading flutists and an Opening Gala Concert with Sir James and Lady Galway. The Festival ends with the Grand Finale Concert, featuring the Festival Flute Choir, which is your chance to perform in an ensemble directed by Sir James!
Throughout the week we have a large array of beautiful instruments on display for you to play and enjoy, thanks to the many flutemakers who support our Festival. Thanks to their generosity, we are fortunate to be able to offer special prizes to deserving students at the end of the Festival. These prizes include handmade head joints, piccolos, flutes and scholarships towards next year's Festival!
All classes are open to all students and music lovers to observe throughout the Festival.
We invite you to join us at the 30th Anniversary Galway Flute Festival from 19-28 July 2019, for an inspiring week filled with picturesque sights and sounds, taught by the Master and his friends!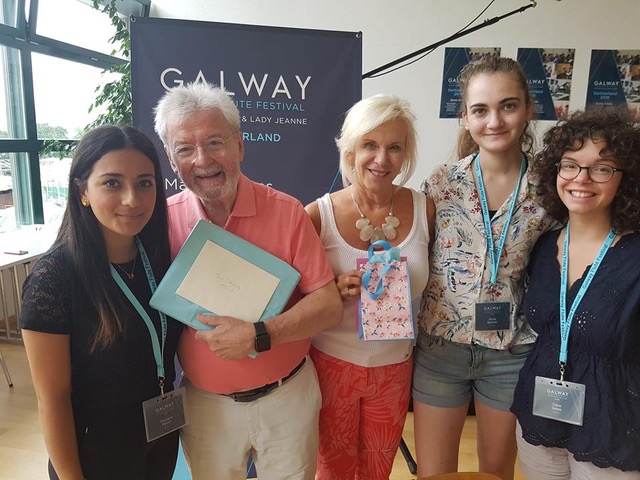 Copyright © 2018 Galway Flute Academy
© Studio Philipp Klemm
© Foto Hans Eggermann Luzern